Description
Buy 30 Tool Hooks for Workshops, Garden Sheds, Tools, Garages and More with Screws
Our tool hooks are ideal for wall hanging various items in and around the garden shed, garage, workshop and more. Suitable for storing the following…
Shovels
Forks
Rakes
Garden Tools
Brooms
Hammers
T Shaped Handel's
D Shaped Handel's
Shears
Secateurs
Garage Tools
Fishing Rods / Equipment
Bags
Hoses
Watering Cans
… and other garden tools / hanging items
Each Tool Hook Size is Approx Size is 7cm wide x 7cm high
Keep those garden tools out of the way and tidy your space with these brackets saving you more room in your workshop, garage or garden shed! A tidy work area is a happy gardener.
Great Storage Solution for Tools!
Storage Hooks | Garden Shed Hooks | Wall Hooks | Tool Hooks | Garage Hooks | Wall Mounted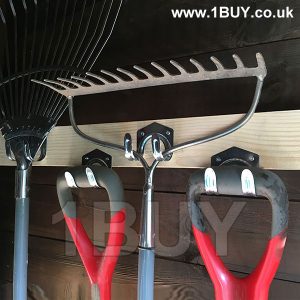 Our garden shed hooks are ideal for hanging and storing tools within your garden shed. They are suitable for many types of tools such as rakes, forks, spades, trowels, grass rakes and more. Our hooks are suitable for both D shaped handle tools and T shape handle tools.
Often known as Tool hooks , or metal U shape hooks which are great for tidying items.
They are also available in a choice of pack sizes 10 or 20 although more can be purchased in bulk if needed.
Our tool hooks can also be used for hanging a wide range of garden tools. Simply screw the supplied screws into your shed, ideally a wooden baton and attach the garden shed hooks. Our hooks are a great gift for any keen gardener suitable for birthdays, fathers day, mothers day, Christmas etc or as a special gift for saying thanks.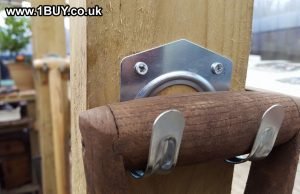 Like, Tweet and Share these shed hooks with fellow gardeners and friends.