Description
The Kingfisher premium bird table features an integral nut / food feeder, scatter some seeds on the table and nuts in the middle feeder to supply a mixture of food to most common garden birds.
The nut feeder can be removed by an opening in the bird feeders roof ridge.
Ideal for any size garden this bird table will attract a wide variety of lovely garden birds.
Simple self assembly is required.
Assembly required Yes
Brand Kingfisher
Construction Wood
Feed included No
Nut feeder included Yes
Kingfisher bird feeding table
Approx Sizes of product:
Product Base Width 46cm
Product Base Depth 46cm
Overall product Height 117cm
Feeding table tray size:
kingfisher premium wooden bird table
Barcode: 5013478143358
Product Code: BF009WF
Brand: Kingfisher Natures Market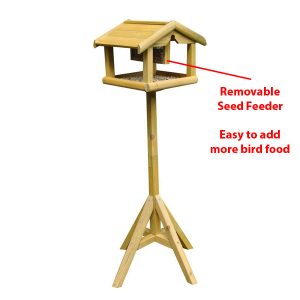 Like, Tweet and Share this product below with fellow bird keeping friends.