Description
A delicious and nutritious treat for your hedgehogs! Spikes Insect crumble is a yummy mix of dried insects and probiotics making it the perfect addition to the other foods in our range. Either sprinkle it on top of your hedgehogs' usual dinner or use it as a special treat. You will find your local hog / hogs will come back night after night if you use a mix of feeds from the Spikes hedgehog food range.
100g
Quality Hedgehog food
Insect Crumble
UK Supplier
Posted with Royal Mail
Spike's World Brand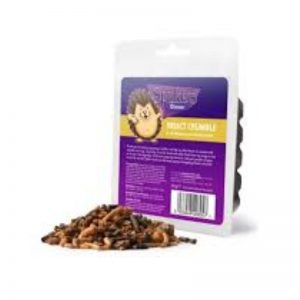 Quality spikes insect crumble hedgehog food delivered to your door with the option of 2 sizes. Hedgehogs are now becoming increasingly rare due to the loss of habit, new concrete fences  not allowing hedgehogs to pass from garden to garden and loss of natural foods. Do Help the hogs out by giving them a nightly feed with a range of spikes hedgehog foods.
Read more about Spikes Hedgehog food here

Like, Tweet and Share this product below with family and friends.