A simple guide on how to make a garden shed tool rack with hanging hooks.
Items required
2″ by 1″ piece of wood at a length of 1 wall of your shed
crosshead screwdriver
wood screws
Firstly screw the 2″ by 1″ piece of wood to the wall of your shed, here is a photo of how I done mine. The wood anchors with the screws into the downright shed panels making a strong baton across the side of the shed.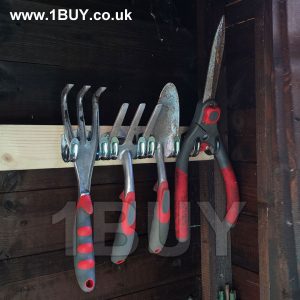 Next use the pack of hooks supplied by 1Buy
Take the new tool hooks and screws from the delivered pack and simply place the hook up to the wood in a position you would like to hang your tools. I spaced mine quite close together as the tools were fairly large in size. Here is a photo below of the tool hooks in place with tools hanging on them in my garden shed.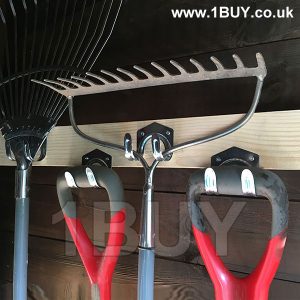 This is one way how to make a shed look nice and tidy.