Description
100mm / 10cm – Pack of 4 Large Screw Hooks Heavy Duty Ceiling Wall Garage Washing Line Hooks Hanging
These large screw hooks are Ideal for Wire Rope Fixing Plant Hanging Baskets

Strong Hooks which are Great for hanging an array of items
Set of 4 screw in hooks

Simple to install – simply screw the hook in
Supplied with Wall Plugs
These big 10cm hooks are Ideal for hanging many items…
Washing lines
Hanging baskets
Garden tools
Tools
Garage items
… and other hangable items
Each Hook Size is Approx Size is 10cm length x 4.5cm width
[see photos for sizes]
Keep tools out of the way, saving you more room in your workshop, garage or garden shed!
" Large Hooks Great Storage Solution for Tools! "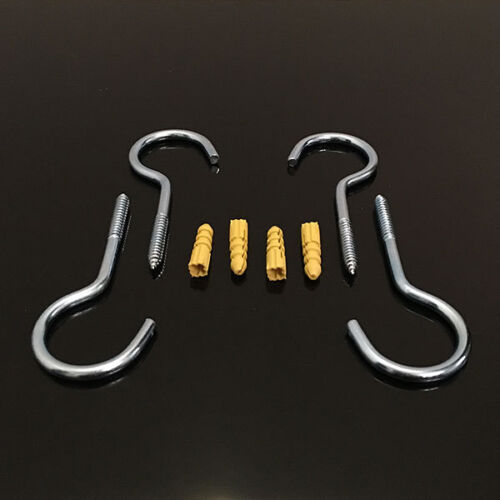 Often known as 10cm hook or 100mm hooks ideal for hanging many items, also named washing line hooks.
These hooks can be used for hanging baskets, washing lines, suitable for inside or outside use and more. They are very strong as they are a large size screw in hook. These are often sold singular but we combine the shipping passing on the discount to you by selling 4 in a set.
See our useful range of tool hooks

Like, Tweet and Share these large hooks below with family and friends.